4.2 is Coming Soon! Testnet Imminent! It's Huge!
Hot on the heels of our last unscheduled but much needed wallet update, PIVX core development team is already finalizing the release of the major 4.2 core wallet for this quarter that includes 630+ new commits over the current 4.1.1 wallet!

It has just been branched off in GitHub which means that it's pretty much ready!
Full details of this upcoming wallet will be included in its release notes once it's out, but to name bomb just a few of its improvements that will be included: Memory pool limiting, Benchmarking Framework, New Accounting API, GUI Improvements, RPC Improvements, and more!
Note that 4.2 update is NOT mandatory. So you can keep using 4.1.1. However, as always, we recommend updating to the latest wallet to benefit from all the new enhancements as well as performance and stability improvements.
So things are progressing really well, and even quicker than anticipated with the Testnet 4.2 wallet expected to be released this week for everyone to try out. We hope to have as many people give the new wallet a try and report back any findings and/or general feedback in either GitHub or Discord.
With all these good progress, the demand for PIVX looks to be increasing with over 100 new masternodes getting added to our network just in the past 7 days!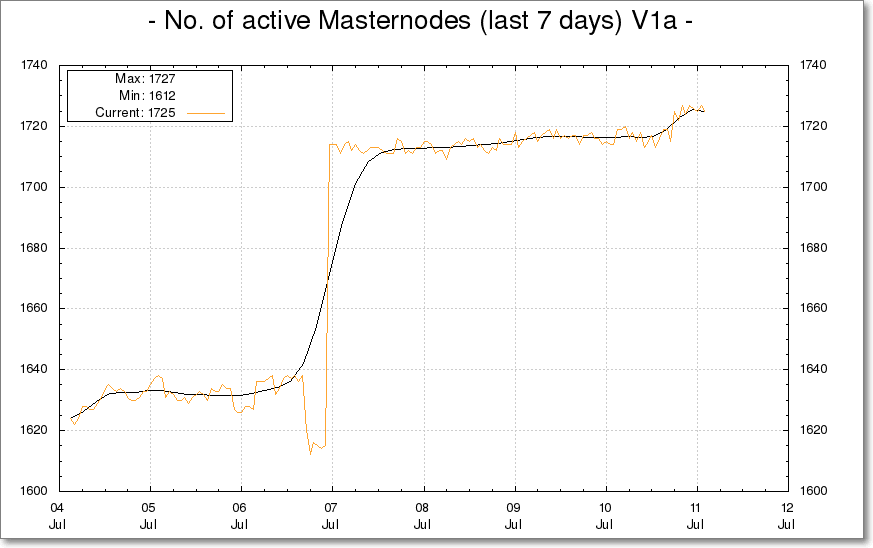 As for some much demanded new privacy protocol development news, what I heard from the fairies is that the integration of the new PIVX privacy protocol, Sapling, has progressed further with it hitting some key development milestones (running on regtest!).
So yes, the future of PIVX looks brighter than ever, and is poised to once again become one of the most advanced privacy coins on the planet. Spread the news!
Major Recent Development Highlights & Reminders
PIVX Core Wallet 4.1.1 Hotfix Release – MANDATORY UPDATE
A mandatory PIVX core wallet 4.1.1 update was released on May 31st 202t and the protocol bump cut-over successfully occurred on Friday, June 5, 2020 9:00:00 PM GMT.
If you are currently running 4.1.0 or older, you must upgrade NOW and then make sure that you are on the right chain by comparing your latest block / hash to the block explorers. If you need further assistance on this matter, please join our discord!
Convert your zPIV back to PIV ASAP!
PublicCoinSpend v4 (PR #936) function has been incorporated into the 4.x wallet since January 2020. So it is now possible for anyone with any version of zPIV to spend them back as PIV. However, as per the recent Road to 5.0 announcement, the support for zPIV will cease once 5.0 is released.
So we urge everyone to convert your zPIV back to PIV ASAP and request assistance in PIVX Discord #support channel if you run into any issues or simply have questions.
Complete GitHub Activity
(June 9, 2020 – July 9, 2020)
Excluding merges, 25 authors have pushed 235 commits to master and 235 commits to all branches. On master, 202 files have changed and there have been 12,160 additions and 8,468 deletions.
55 Pull requests merged
14 Pull requests proposed
8 Issues closed
8 Issues created
Major Development Targets
(subject to change and is never a complete list)
Q3 2020 – PIVX Core Wallet 4.2.0 Testnet Release
Q3 2020 – PIVX Core Wallet 4.2.0 GA Release
Q4 2020 – PIVX Core Wallet 5.0 release (with zk-SNARKs Privacy)
Please also check our roadmap page for more info on what else is planned.
Also, there are many other 2020 developments in the works at a project level such as a brand new website, logo refresh, and more. So 2020 is going to be a great year!
Want to contribute?
Anyone and everyone is welcome to contribute to our code on GitHub, and they will all go through the same process of multi-dev peer review and will be merged if it gets enough ACKs!
Language Translation Needed
We also welcome all translators who can assist in making our wallets multi-lingual! From now on, our core wallets will only include support for languages that are at least 80% translated on Transifex; so any extra assistance in this area would be greatly appreciated! https://www.transifex.com/pivx-project/